Itchenor Sailing Club; 8th September 2022
Itchenor Sailing Club hosted the bi-annual Lark Masters Championships and dinner on Saturday 8th October. After two years of cancellations due to Covid and storm force winds, the fleet were welcomed with gloriously sunny skies, at what is surely one of the most beautiful dinghy sailing spots in the country.
The Lark Masters is always hotly contested and this year was no exception. Current Lark sailors were joined by Lark heroes from the past making it a formidable fleet.
Three races were held in a gradually building breeze. A strong tide washing upwind made the starts very challenging, but most of the place changing and tactics were on the long runs punching back against the tide.
In race one Steve Cumley and Eluned Jones were able to soak down below the fleet after rounding mark one, and were then able to sail off on what became a skewed course as the breeze filled in. In race two Stuart and Nick Hydon, and Chris Allen and Tracey Covell, escaped the fleet and had a great battle swapping places twice, before Stuart and Nick took the bullet on the line.
Six boats had a serious chance of winning overall with a good result in the last race. Harry and Gemma Pynn executed a perfect pin end start and led at the windward mark from Steve and Eluned. Down the first run John and Vicky Brickwood moved up to second with James Stewart and Hannah Carutthers in third. This left the Pynns and Brickwoods battling for first and second ahead of a group of four who were contesting third. The Pynns hit the last leeward mark letting the Brickwoods escape to what they thought was the race and event. Unfortunately this was not to be as they crossed the finish line to silence giving the race to the Pynn's. Tim Fells and Jerry Eplett kept their calm to come home first out of the group of four who were now battling for second. Then in a very close finish Cumley and Stewart crossed the line third just ahead of James Stewart & Hannah Carruthers and Chris Allen & Tracey Covell.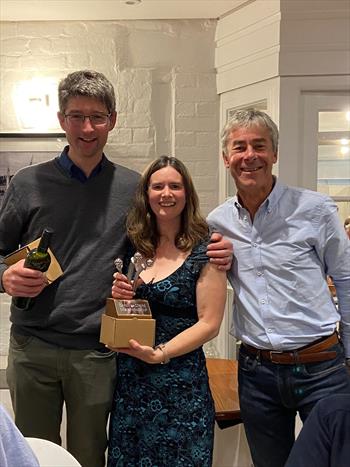 The Lark Class would like to thank Itchenor Sailing Club for hosting a fantastic event and many participants will join Open meeting on the following day (Sunday 9th Oct).
Full Results – Itchenor Sailing Club : Lark Masters Open (itchenorsc.co.uk)